Free Dental Care
»
Alabama Free Dental Clinics
» Muscle Shoals
Muscle Shoals, Alabama Free Dental Care Clinics
We have listed all of the free dental clinics we have in Muscle Shoals, AL to find opportunities for free dental work. You may also want to sign-up to receive email alerts to be notified as soon as we add new clinics in Muscle Shoals, AL.


We did not find any dental clinics in Muscle Shoals. Use the search box below to find affordable dentists, or view the closest dental clinics to Muscle Shoals below the affordable dentist search. We list the distance of each clinic from Muscle Shoals.
Closest Dental Clinics to Muscle Shoals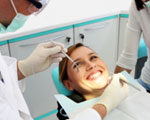 Florence, AL - 35630
(256) 760-4713

Nearby Dental Clinic: 4 miles from Muscle Shoals
Dental Clinic to alleviate pain and provide self-sufficiency for our patients. Services include: x-rays, assessments, tooth extractions, and referrals to dental specialists for advanced treatment. Eligibility:The general working public between the ages of 10 and 64, who do not have health insur
Attention: Not all clinics are free. Please see clinic details.