Free Dental Care
»
Tennessee Free Dental Clinics
» Cookeville
Cookeville, Tennessee Free Dental Care Clinics
We have listed all of the free dental clinics we have in Cookeville, Tn to find opportunities for free dental work. You may also want to sign-up to receive email alerts to be notified as soon as we add new clinics in Cookeville, Tn.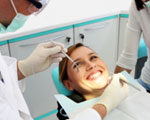 Cookeville, TN - 38501
(615)741-3111

Attention: Not all clinics are free. Please see clinic details.